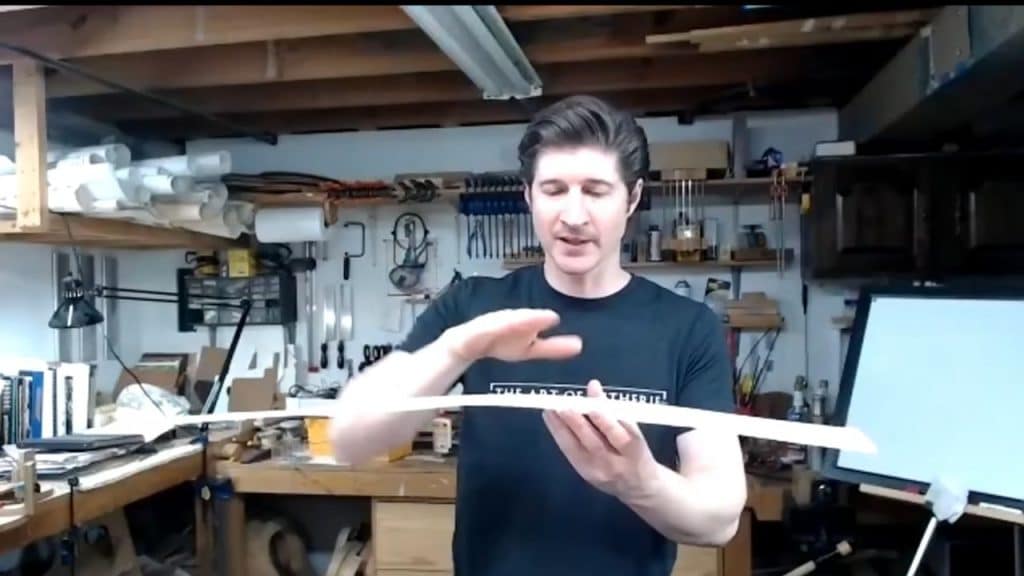 Luthier's EDGE Q & A Jam Session – April 2018
We had a great time this month, as you'll see in the replay video below! I shared an important announcement, we covered many great questions, and really got into some important topics that I feel are very useful and important in deepening your understanding of the art of lutherie AND that could help you improve your guitars right now!
Here are just a few things we covered in this month's session (IN ORDER):
Humidity In The Workshop 00:13:08
Bridge Plate Material & Design 00:16:45
Spruce Tonewood (Species, Tone & More) 00:25:00
Dealing With Frequency Imbalances (Wolf Notes, etc.) 00:33:22
Tailpiece Break-over Angles (Balancing and fine-tuning tone) 00:38:45
Important tricks for using CA binding methods 00:46:45
Purfling Width & Installation Tips 00:52:35
Using Dark-Colored Shellac on Flamed Maple 00:56:25
Shellac Bench Cut (Clarification) 01:01:15
Fixing Pore Filling & Checking Issues For Shellac 01:06:45
Pore Shrinkage – Initial Body Stage 01:19:10
Alternative Natural Finishes 01:22:35
Table Saw Fret Slotting Jig 01:29:40
Masking the Bridge Location (Technique) 01:32:20
Clear Pickguards 01:37:30
Measuring String Height 01:39:50
How Thin Is Too Thin (Tuning The Top) 01:44:45
Tips For Bending Binding (For Cutaway) 01:50:35
Layout Tips For Tuning Machine Placement 01:54:25
Isolating/Reducing Variables For Problem-Solving/Trouble Shooting 01:56:35
And more…
Leave a comment below to join in on the conversation!